If you're like me, you lean more to the creative side. I came from a world of content, constantly creating fresh new ideas for the readers of an educational trade publication. In 2013, I was drawn into the world of SEO. That may seem like a drastic shift, but not entirely, when you think about it.
The lines of content and SEO intersect quite frequently. In fact, some bloggers go as far as to say that SEO is only about content, and that everything else is "window dressing".
Well, I completely disagree and I'll tell you why. SEO as a skill set is very broad. There's a lot of overlap when it comes to content and SEO, because after all, content is what's being optimized for search.
However websites also need to be technically proficient in order to appear consistently in search results for associated keywords and phrases. Google is pretty snobby when it comes to the standard of perfection it expects for technical website optimization. If you're doing everything right, you get a pass. Do it wrong, and you could have a hard time appearing.
It all comes down to user experience. If your site is full of broken links and slow-to-load elements, no one is going to want to stick around.
As marketers, we need to have at least a fundamental understanding of the technical side of things. If our content is not ranking for the phrase we're targeting, we need to see the bigger picture—over and above the possibility that the text itself is not adequate. Maybe the blog post or article we wrote is fantastic, but the website is plagued with technical errors. This causes users to lose faith, and that's a very strong signal to Google that the website in question is low quality.
If any aspects of your site are technically unstable, Google's assumption is that you have not done your due diligence and obviously you're not a good answer to the question.
Now, I'm not talking about having to delve too far into overly technical SEO. The extremely technical SEO stuff interests me, but I'm more inclined to leave it to our skilled engineers and programmers.
What I am truly interested in is teaching clients about how they can leverage the data at their fingertips, and turn it into something real.
So in this series of posts I want to show you a few tricks to uncover information about your website that you may not know existed.
We're going to start basic.
Quick Search Console Trick: Finding 404 Errors
Let's do a quick tutorial. I'll assume you have access to Google Search Console and that it's installed and running properly on your website.
You know what 404 errors are, right? The content is inaccessible because of a few possible reasons:
Someone changed the webpage URL, so all links going to it are broken
Someone linked something incorrectly on the site and now it's returning a "page not found" error
Someone took down a webpage, and did not forward the old link properly
Did you know that Google crawls your site from time to time and has a list of most of the places where 404 errors occur?
How to Find Them:
Open Search Console and select your website
Select "Crawl" from the left-hand menu, and select "Crawl Errors"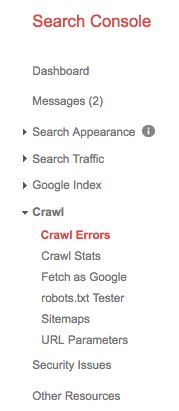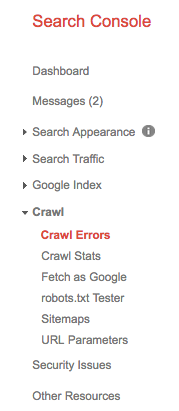 Select the "Not found" tab


Click on one of the links in the found set, and then click on the "Linked from" tab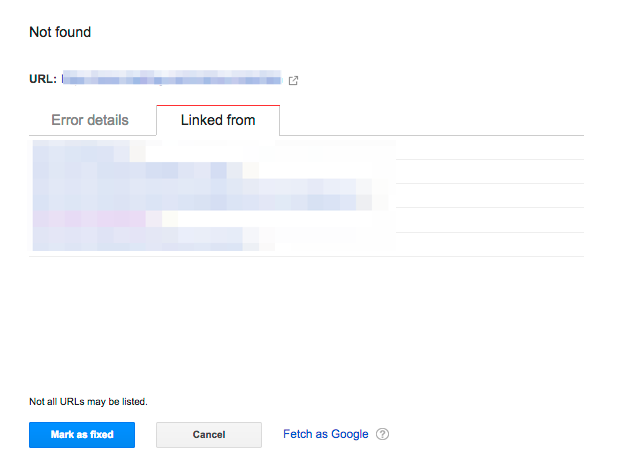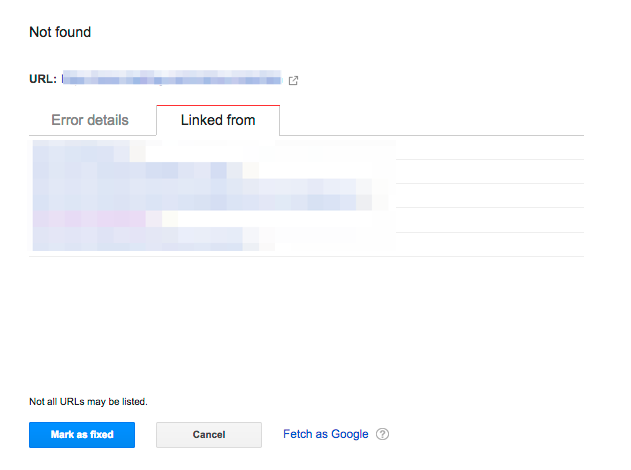 You now have a list of places on the site where the broken link appears. If the list of pages is massive, it could be that the broken link is part of a menu item or something site-wide.
Now, you need to seek out the place where the link exists and fix it, or remove the link.
Keep in mind that 404 errors on their own are not inherently detrimental to ranking on Google. At least that's what Google tells us. The caveat to this is user experience. If you have a number of links from search results leading users to inaccessible pages on your website, Google will eventually stop displaying your results. The likelihood of users sticking around the website after they arrive at a 404 error is pretty low. So, the tendency is to "bounce" or "pogo-stick" back to the search result to find a better answer to our question. If enough of this activity is going on, it could be detrimental to your SEO.
The above exercise is a good way to do some spring cleaning on your website. Maybe you've been adding webpages over the past few years, changing links, taking pages down. Unless you've kept a very detailed record of all this activity, and maintained a process for fixing these things, you may have a bunch of dangling 404 errors haunting you.
Search Console is a good way to keep on top of this. There's also a ton of other features it offers that most content marketers are unaware of. And the best thing is, it's a free tool.
If you have questions about anything you've come across in Search Console or other SEO tools, let us know!
Until next time.